The winners of our last "Empty Room Contest" will be announced on the 22nd of November. Please come back to the Forum next Monday to view the results~
The final deadline for the selection Best Popularity Award is November 21st (Sunday). Before which, you can still share your project with your friends or family members to get more likes and views.
The American Room Contest!
🚀 Dear Homestylers, to make our design community more interesting, and to encourage every user to keep creating, Homestyler will be holding regular design contests and activities from now on, with prizes of free points, memberships, and renderings. Feel free to visit Homestyler Forum for activity information~
Now we challenge you with the third contest with more limits -The American Room Contest !!!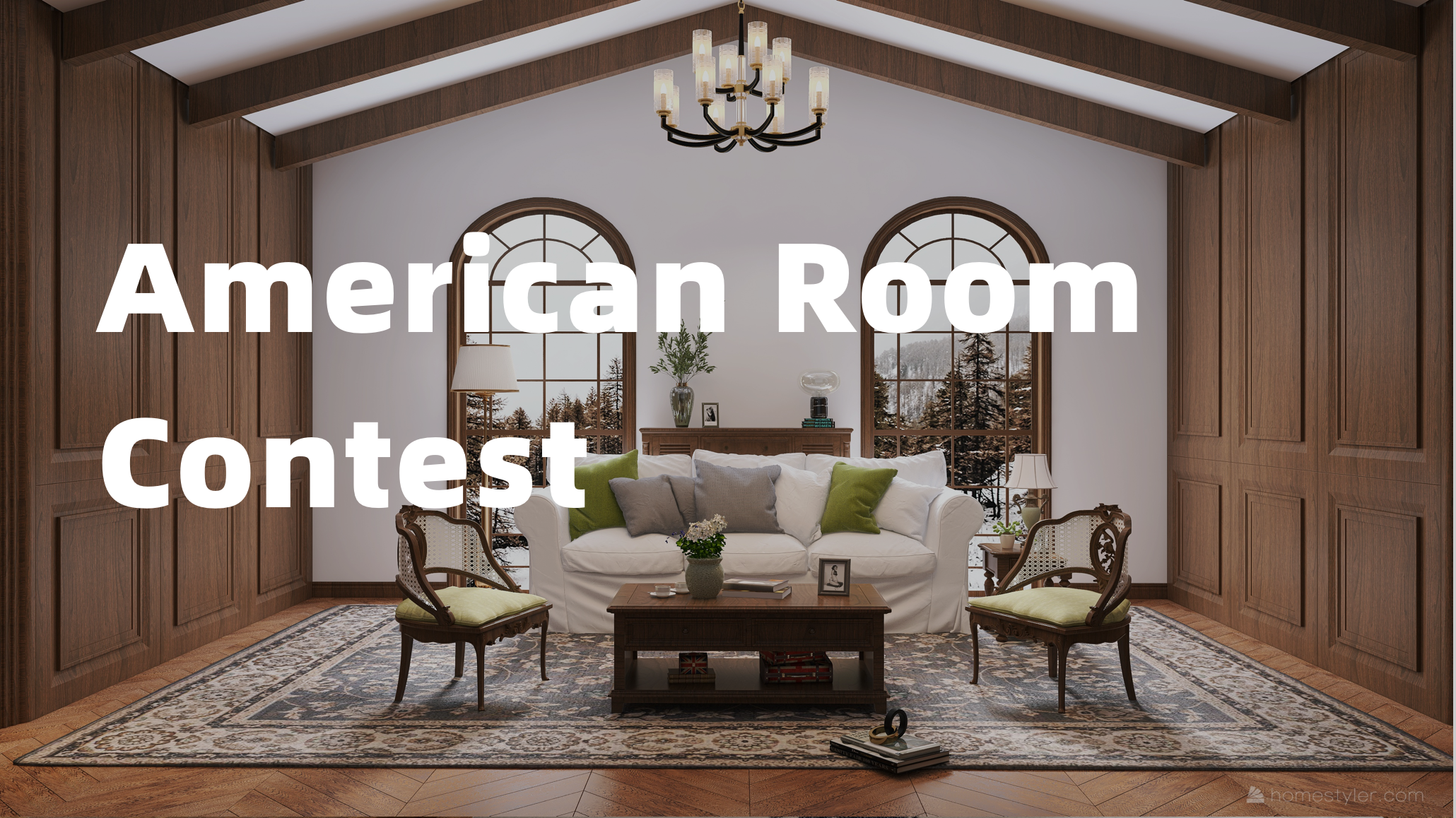 Overview
American style, as a classic style in interior design, always enriches with wood, stone and metal. With features of elegant colors, classic printing, exquisite accessories, family and friends gather around in the functional and comfy interior space. As the northern hemisphere gradually walks into winter, Homestyler invites you to design this empty room with your ideas and depict a warm and cozy American style room with a sloped roof!
As long as your work meets the entry requirements, we will reward 10 Homestyler points to your account, and the winners will win higher points, free memberships, renderings, unlock paid model packages, and other great prizes!
Duration
Submission: 2021.11.19 (Friday) to 2021.11.29(Monday)
Winner Announcement:2021.11.30 to 2021.12.02
Awards & Prizes
Participation Award:
All participating works that meet the requirement will receive 10 points. If your work passes the preliminary selection and enters the gallery, you will receive 50 points. (The winners of this award can participate in the selection of the following awards together)
Selected Awards:
(Each participator shall only be awarded once for the same award)
Best Room Award:
1st Prize (1 winner):One month of Master Membership (worthy $45.9)
2nd Prize (3 winners):One month of Pro Membership (worthy $25.9)
3rd Prize (5 winners): Ten 4K renders + 20 seconds of 1080p video rendering
Best Popularity Award (3 winners):Ten 4K renders +unlock one paid model package
Most Innovative Award (3 winners):Ten 4K renders +unlock one paid model package
Selection Criteria:

Best Room Award:25% Number of likes + 25% Innovatoin + 25% Aesthetics + 25% Color Matching
Best Popularity Award:To 3 projects with the highest points = (70% x Number of likes) + (30% x Number of views)
Most Innovative Award:Innovation will be the first criteria - whether you make the most innovative purpose of the room, or the most creative redecoration of the space. Remember to include your ideas in the project description!
Submission Requirements
1. Contest theme:
In this contest, we will give you a designated room as the template. You need to design it into American style with a sloped ceiling. In addition to the size of the room, you can change other contents as you wish!
Remember, the keywords for this contest are: The Given Room, American Style, A Sloped Roof!
2. Content requirements:
1)Floor plan: design with the designated room provided by Homestyler. Click the following link to copy the empty room under your account:https://www.homestyler.com/openShared?assetId=a63cb31c-510a-41b5-b34f-ae4d442f22c5
2)Design element: the interior of the room needs to have a sloped ceiling design.
3)Style: American Style
4)Slection of models: you shall use at least 3 models from the American Style Model Collection (Vol.59) from the Trends catalog.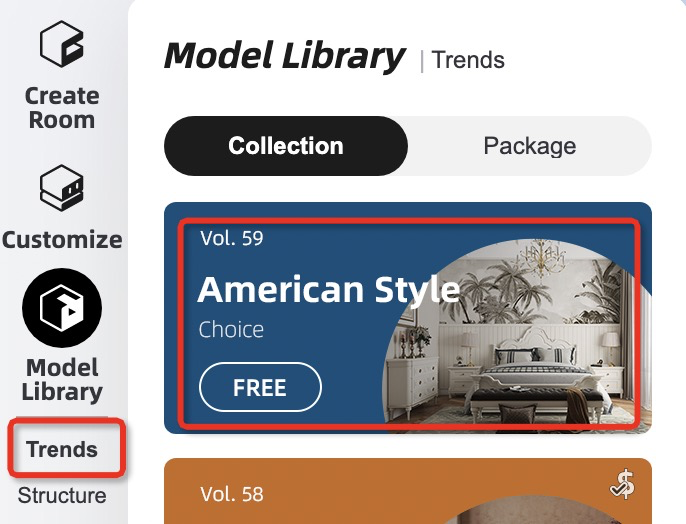 5) Render quality&quantity: each room/space contains at least two 2k and above normal renders and uploaded floor plans.
6)Project name: the project name must contain the hashtag#AmericanRoomContest
7) Project status: the project needs to be set to public status, otherwise it will not enter the selection.
8)Number of entries: the number of projects submitted is not limited, but each person shall only be awarded one prize.
3.Sloped Ceiling Tutorials:
If you do not know how to create a sloped ceiling, you can refer to the tutorial below to learn:
Method 1: (Recommended: use "Customize Ceiling" Tool to design with parametric models)
Select the ceiling of the room in 3D view, enter "Customize Ceiling", select one pitched ceiling model under the Parametric Ceiling category and put it into the room. Then you can change the size, material or color of the inclined roof to meet your design needs.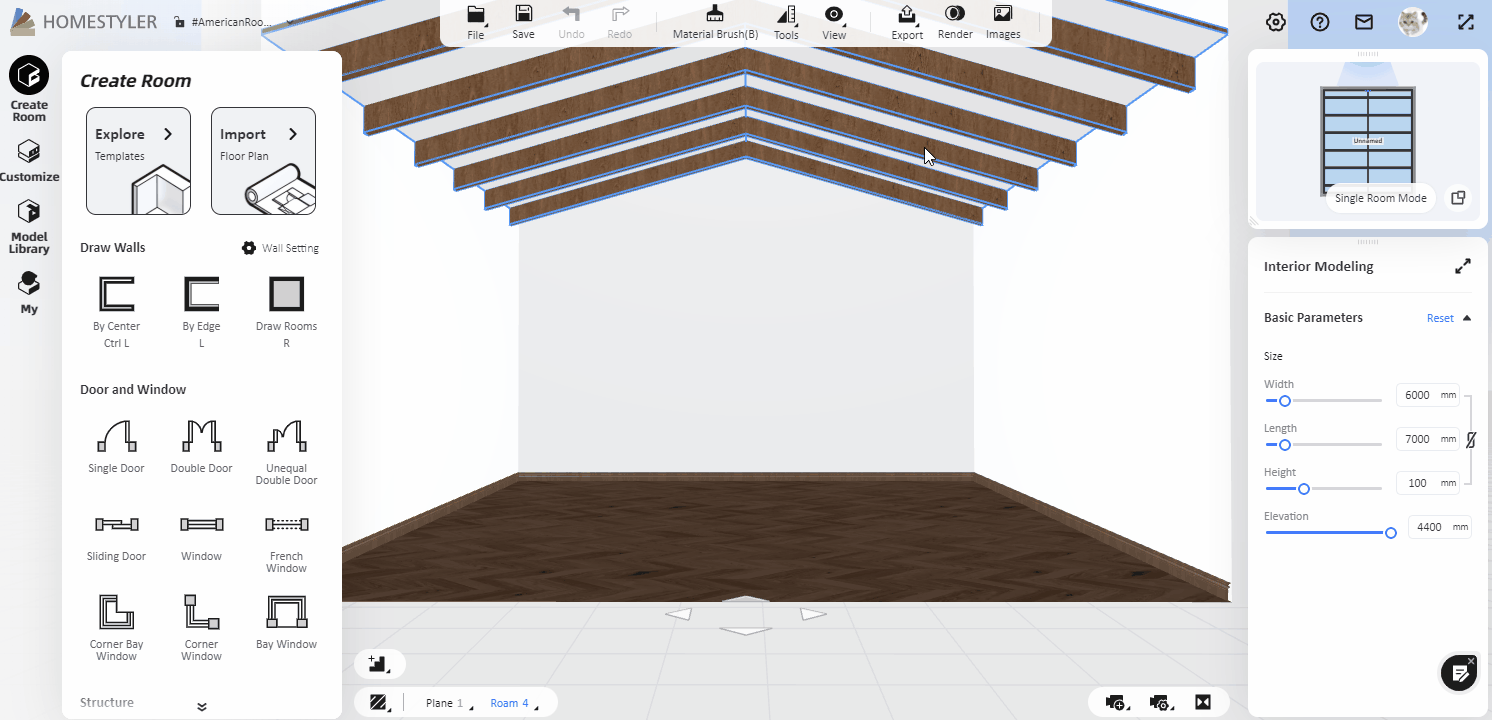 Method 2: (Advanced: use "Interior Modeling" Tool to draw a more customized ceiling)
https://www.youtube.com/watch?v=dlPIQeyJ8ac
Submission Process
1)Click the link and open our designated empty room to design:https://www.homestyler.com/openShared?assetId=a63cb31c-510a-41b5-b34f-ae4d442f22c5

Please use Homestyler Floor Planner to create the design and renders that meet the requirements of the contest. After finishing the design, please go to "Edit Project" under the "My Designs" tab and give a general description of the project.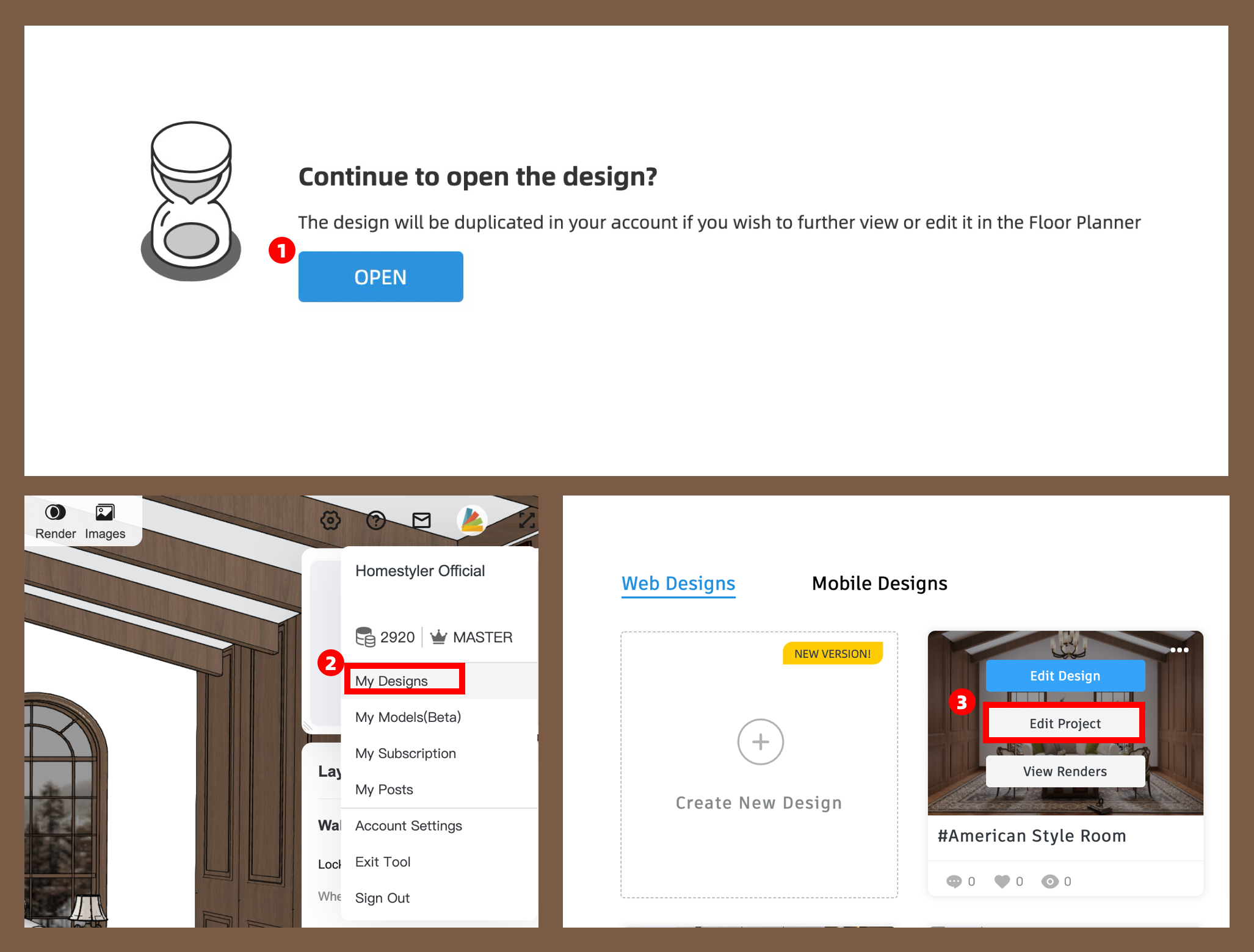 2)After editing your project, please add the hashtag#AmericanRoomContest at the beginning of your project name in order to submit your design to the preliminary selection pool. Make sure you leave a description of your design ideas and then update the floor plan.

3) Set your project to be public status.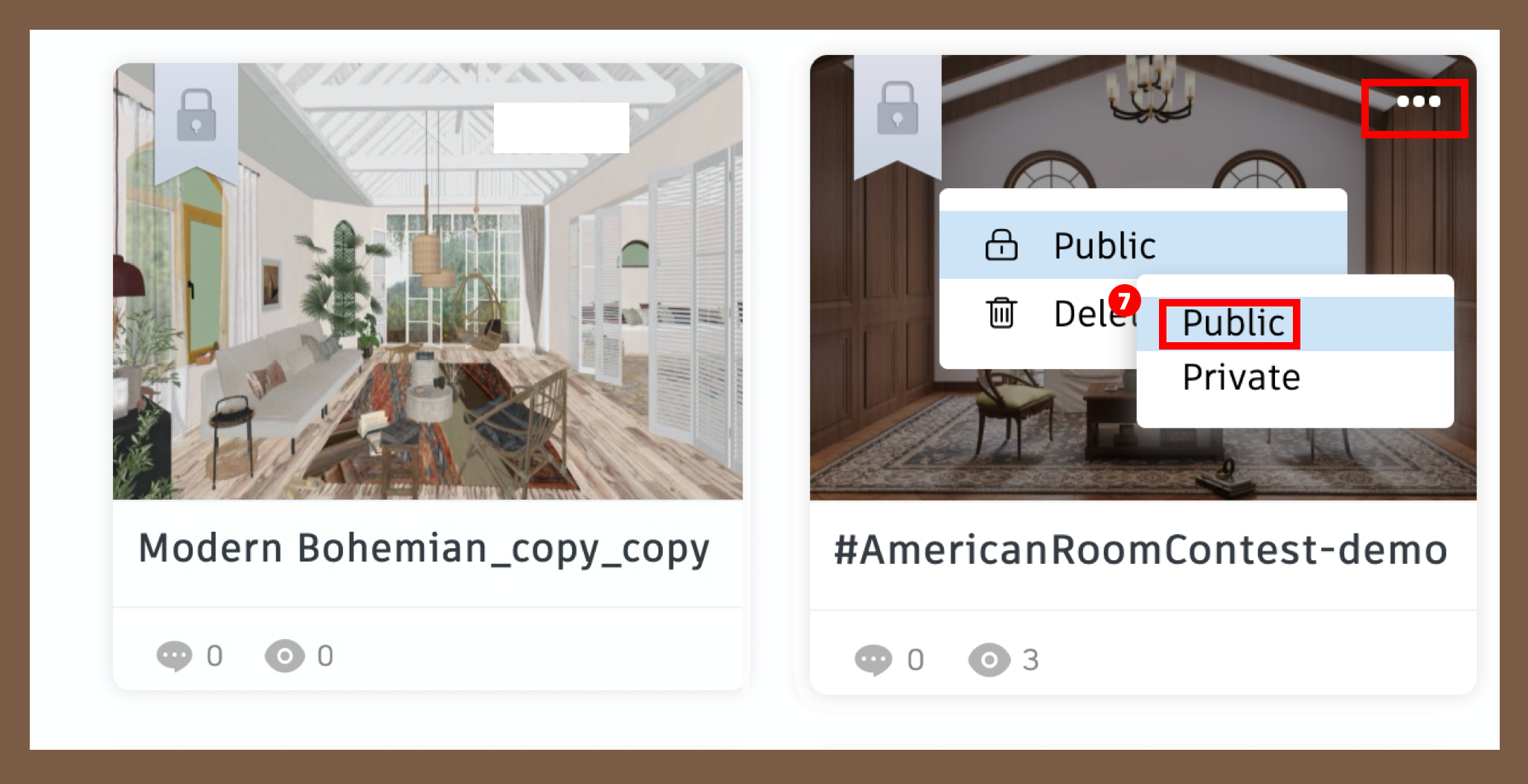 4) If your work passes preliminary selection, it will show up in Gallery under the #AmericanRoomContest tag.
5) We will post the final winner announcement in the Forum, and we will send an email to all winners.
6) During your participation, feel free to contact "Homestyler.contest@service.alibaba.com" if you have any questions.
FAQ
1:Can I modify the wall height of the room, or add more rooms inside the space?
Of course, you can! But please be careful not to change the length and width of the room. You can add more rooms inside of the given room, but do not draw rooms outside of it.
2: Can I add windows and doors, or other building structures like partitions to the room?
Of course, you can!
3:Can I change the ceiling of the room?
Yes, but the interior of the room needs to be designed with a sloped ceiling in this contest. We would encourage you to learn how to make a pitched roof with our tutorial~
4: Can I change the color and material of the sloped ceiling, or other interior fishes like wall and floor?
Of course, you can!
5: Can I replace the color or material of the selected models in the "American Style" model collection?
Of course, you can!
6: What should I do if I cannot update the floor plan when editing the project?
You can refresh the page or check whether there is a problem with the network. If you still cannot upload after trying, you can add an aerial render instead to show an overview of the whole design.